The Watters
The Watters "Mellow" EP Release Show at Continental Club w/ Wrongbird
Aug. 27-28th, 2022
About this show
Join us as we celebrate the release of our new EP, "Mellow" at The Continental Club in Austin with local act, Wrongbird The Watters: 10pm-11:30pm Wrongbird: 12am-1:30am $10 at the door
Show More
Fan Reviews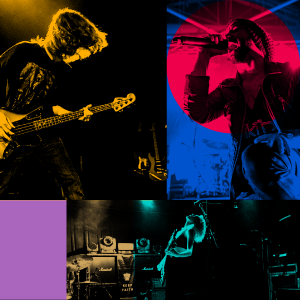 The last show for the time being while Daniel and Jenna prepare for the arrival of baby Watters, The Watters delivered another amazing show. Eight months pregnant, Jenna continued to belt out the songs in her beautiful, pitch-perfect voice. Despite technical difficulties with his equipment, Daniel, in his laid back style, continued to deliver a solid performance. Be on the lookout for their return and catch these two - you won't be disappointed.
Austin, TX
@
3TEN ACL Live
Discover more artists to follow & sync your music
You might also like
Similar upcoming events
The Watters Biography
The Watters honed their one-of-a-kind sound wandering around the country and soaking up their habitats. Born and raised in Sedona, The Watters developed their eclectic sound after living in several dramatically different cities including Los Angeles, Denver, Nashville and now Austin. Seamlessly blending Americana, Soul, Rock and Jazz, they have been described as "Fleetwood Mac with a horn section." Daniel and Jenna Watters have collaborated on seven albums together under various monikers, and they released their debut record, GREAT UNKNOWN, as "They Watters" in 2016. They have garnered a devoted fan base through their energetic performances, stirring vocals and road-weathered musicianship. For The Watters, life and music are one, their journey together being their greatest muse.

With fifteen years of music collaboration together, husband and wife duo Daniel & Jenna Watters embrace a sound they call "Americana Soul". Aided by some of Austin's finest musicians, The Watters is full of the rich experience and expert contributions of everyone involved. Lively horn riffs and lingering vocal melodies serve as a cornerstone for the new album, which features well-crafted songwriting, the electric energy of a live performance and unique genre that is both indefinably new yet always familiar.

The Watters became an Austin band in 2015. "On one of our trips home to Sedona," says Daniel, "we were convinced to take a long detour to Austin, TX and ended up at a show at The Continental Club Gallery where we decided that night we had to move here."

Now, after recording two albums and playing relentlessly around Austin for five years, The Watters, whose airtight version of Americana/Soul often elicits comparisons to Fleetwood Mac (to whom they've been known to play Tribute shows around ATX), Tedeschi Trucks Band, and Rilo Kiley, have won a major grant from local music non-profit Blackfret and are preparing to release their new album Intuition on January 23rd, 2021.

Intuition's primary genre is heavy and/or profound lyrics delivered with buoyancy and amusement. Horns and organs trill around sharp corners. Perfectly executed harmonies and immaculate vocals envelop the tracks in a warmth that often belies the lyrical content. That duality is life, if you're lucky, and it's what The Watters excel at.

Intuition was recorded live over five days at Good Danny's Studio (Sheerwater, Wye Oak, Of Montreal) in Lockhart, TX in October 2019. It features JJ Johnson (Tedeschi Trucks Band) on drums, Anthony Farrell (Greyhounds) on Organ, Trevor Nealon (Band of Heathens) on Keys, and Joe Beckham on Bass. Horns and vocals were overdubbed at Birdhouse Studios and background vocals were recorded during Covid-19 lockdown. Intuition was mixed by Danny Reisch of Good Danny's and mastered by Greg Calbi at Sterling Sound.
Read More
Follow
The Watters
for updates and alerts